MMP DATA TRANSPARENCY
Your participation in the MMP unlocks many great benefits. We created this page to answer common questions about how your MMP data will be used.
Making it easy to understand how your data is used.
Your participation in the Municipal Measurement Program™ (MMP™) will directly benefit your municipality, county or regional government agency and it also benefits many other organizations:
your peers (other MMP participants)
state, county, and regional government agencies
industry organizations
many other organizations that have an interest in improving waste & recycling in the U.S. and Canada
---
SUPPORT CONSISTENT MEASUREMENT
The data you submit to the MMP contributes to the development of a large-scale centralized pool of data that makes consistent measurement of municipal program performance possible. Your contribution to this MMP database enables you and other municipalities to compare municipal program performance against regional benchmarks and national averages.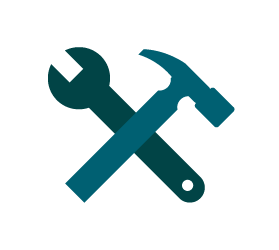 SUPPORT NEW TOOLS & RESOURCES
Your data also helps industry stakeholders understand current waste management challenges so that new tools and resources can be designed to boost waste diversion performance.
---
Who will have access to your data?
We recognize that organizations may be sensitive about sharing specific types of data with other organizations. The following organization types may access your MMP data:
Program Administrators
Re-TRAC Connect™ and The Recycling Partnership are program administrators who will ensure the MMP runs smoothly. The Re-TRAC Connect™ team provides technical support to participating municipalities and The Recycling Partnership reviews and verifies program assessment survey responses. As a point of clarification, The Recycling Partnership will not share MMP data with its funding partners.
Government Data Management Plan
State, county, and regional agencies can purchase an annual subscription to view, manage, and analyze data submitted by MMP members in their jurisdiction.
Other MMP Participants
As an MMP participant, you will have access to your program performance data and will also be able to benchmark your performance against other participants.
Industry Organizations
National and regional membership-based organizations will be able to purchase an annual subscription to access subsets of MMP data that has been submitted by MMP members holding active memberships with the industry organization.
Other Organizations
Organizations such as hauling companies, consultants, and bin manufacturers will be able to purchase an annual subscription to access subsets of the MMP data. Absolutely no personal or contact information will be shared with this group.
This list may expand to include additional organization types in the future.
---
WHICH TYPES OF DATA WILL BE SHARED?
The data access table below describes which types of data can be accessed by each of the organization types described above.
Edit

MMP Data

Program Administrators

Government Data Management Plan

Other MMP Members

Industry Organizations

Other Organizations

ABOUT YOUR MUNICIPALITY

Includes information about municipal classification, population, waste management and recycling challenges, participation in recycling reward programs, and memberships with industry organizations.

YES

YES

YES

YES

YES

ABOUT YOUR MUNICIPAL PROGRAMS

Includes information about the curbside and drop-off collection programs available in your municipality. Examples of the types of information included in this data set: the number of households served by each of your curbside programs, tipping fees, contamination rates, and the materials accepted in your curbside and drop-off programs.

YES

YES

YES

YES

YES

TONNAGE INFORMATION

Includes the total tons of materials collected from each of your waste and recycling programs.

YES

YES

YES

YES

NO

PERFORMANCE METRICS

Includes information about how your municipality's waste & recycling programs are performing, including your municipality's diversion rate, annual lbs/household of recycling, and economic benefits of recycling metrics.

YES

YES

YES

YES

YES

USER INFORMATION

Includes the name, job title, and work contact information of the person completing the program assessment surveys on behalf of the municipality.

YES

YES

NO

NO

NO
As a reminder, your participation in the Municipal Measurement Program is governed by the User Terms and Privacy Policy. The information contained on this page has been provided to answer common questions about  MMP participant data sharing.