GETTING STARTED WITH GDMP
A helpful guide to make the best use of your Government Data Management Plan
Welcome to the GDMP
The Government Data Management Plan (GDMP) is designed to provide state, county, and regional government agencies greater visibility into local diversion efforts and the region's overall waste diversion performance.
The GDMP provides you with access to Municipal Measurement Program™ data submitted by MMP members within your jurisdiction. It includes two Program Manager Accounts to review, manage, and verify program assessment survey responses. A suite of analytical reports provides the information you need to understand what each of the MMP members in your jurisdiction is doing to address materials management challenges. It also makes it easy to engage with communities (especially under-performing ones) to provide the support they need to continuously improve program performance.
Program Managers
Each GDMP Customer will assign up to two (2) Program Manager Accounts (referred to as "Authorized Users" in Customer Terms of Service). GDMP Program Manager Accounts are configured to access Municipal Measurement Program (MMP) data for all members in the Customer's jurisdiction. The primary role of GDMP Program Manager's is to review data submitted via the MMP's program assessment surveys to identify inaccurate data or response discrepancies.
If you haven't received an invitation to access your Program Manager Account, please contact mmp@re-trac.com
The Importance Of Data Verification
The following section describes the data verification process that GDMP Program Managers are expected to undertake when reviewing MMP members' program assessment survey response data.
The Basics
The Recycling Partnership

 will provide basic data verification training to all new GDMP Program Managers.
The Recycling Partnership

will also perform a final review of all MMP program assessment survey responses, with the exception of Organics Data, to confirm data quality and provide feedback to GDMP Program Managers as necessary.
BioCycle will perform verification of all Organics related data.
The 

general flow of the verification process

 is as follows:
An 

MMP member

(participating municipality, county or regional agency) marks all relevant surveys as "complete".

GDMP Program Manager

is notified, by automated email, that the MMP member's surveys have been marked as "complete".

GDMP Program Manager

 logs into Re-TRAC Connect™ to review the completed survey responses.
GDMP Program Manager

 follows the steps outlined in the Data Verification Protocol (see below).
Once the 

GDMP Program Manager

has completed a review of the MMP member's survey response, including contact with the member to address any data accuracy issues, the GDMP Program Manager will use the "Audit only" Manager Team Review and Sign-Off Window on the last page of each survey to:

Provide the full name of the GDMP Program Manager who reviewed the survey response.

Specify how changes to the survey response were confirmed (as applicable).

Document important review notes including changes made to the survey response and the steps taken to confirm the accuracy of the data.

Specify the date that the survey response was reviewed.

Click on the radio button "Yes, ready to verify" to indicate that the survey response is ready for The Recycling Partnership to perform final data verification procedures. Note:

do not

use the "Manage Response" window at the bottom of the page for your review; that section is for Recycling Partnership use.

The Recycling Partnership

performs a final review of the MMP member's completed survey response, reviews the GDMP Program Manager's review notes, and addresses any outstanding questions with the GDMP Program Manager.
Getting Prepared
Bookmark and become familiar with using: U.S. Census Bureau

This tool is helpful when checking numerical responses such as household and population data.

It's also useful when making calculations to catch program data anomalies that need to be addressed.
Problematic data may require direct contact with MMP members to verify data accuracy and/or make corrections.  Before opening a program assessment survey response for review, it's good practice to establish a method to track all problematic data points to be addressed with the MMP member in one summary contact.
Helpful Tips
Members cannot mark program assessment survey responses as "complete" until data has been entered into all required fields. Therefore, all essential program information will be available when GDMP Program Managers review survey responses marked as "complete".
Verification should focus on the appropriateness of the numerical data, both in raw form (i.e. entered directly into a field) but also in the calculated form (e.g. pounds per household metric).
Conduct baseline checks against numerical data:

Check population and household counts against U.S. Census Bureau records for the community.

Do check for both single-family and multi-family units according to how the MMP member defines each one.

If household counts are outside of 20% difference with the Census #, plan to contact the MMP member to discuss.
Data Verification Protocol
GDMP Program Managers should follow the instructions provided in the Data Verification Protocol. If you have questions about data verification, please email mmp@re-trac.com.
Generating Analytics
The Government Data Management Plan includes a suite of powerful program performance reports that transform municipal program data into valuable insights about your jurisdiction's overall waste diversion performance.
Annual Trend
Monitor your jurisdiction's annual performance metrics to analyze trends and identify opportunities to make program adjustments.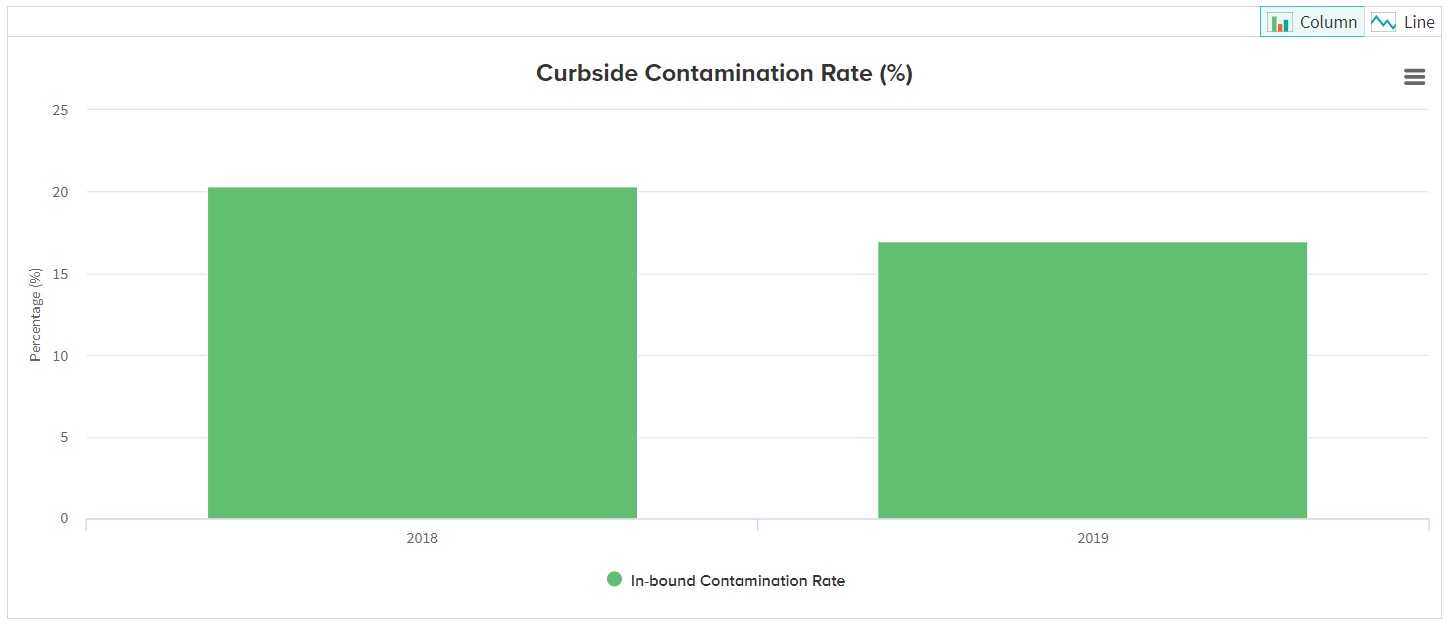 The Economic Benefits of Recycling
Calculate the economic impact of the recycling programs in your jurisdiction by converting tonnage information into insights about estimated job creation, attributable wages, and tax revenue. This report is based on the Recycling Economic Information (REI) Report developed by the U.S. EPA.

Annual Tonnage By Program
Measure the total tons of recycling, municipal solid waste (MSW), and organics captured by all municipal programs in your jurisdiction or select a program to analyze detailed tonnage information.
Put the data to work by analyzing minimum, maximum, average, and median values for the tons of single-family recycling, multi-family recycling, MSW, and organics.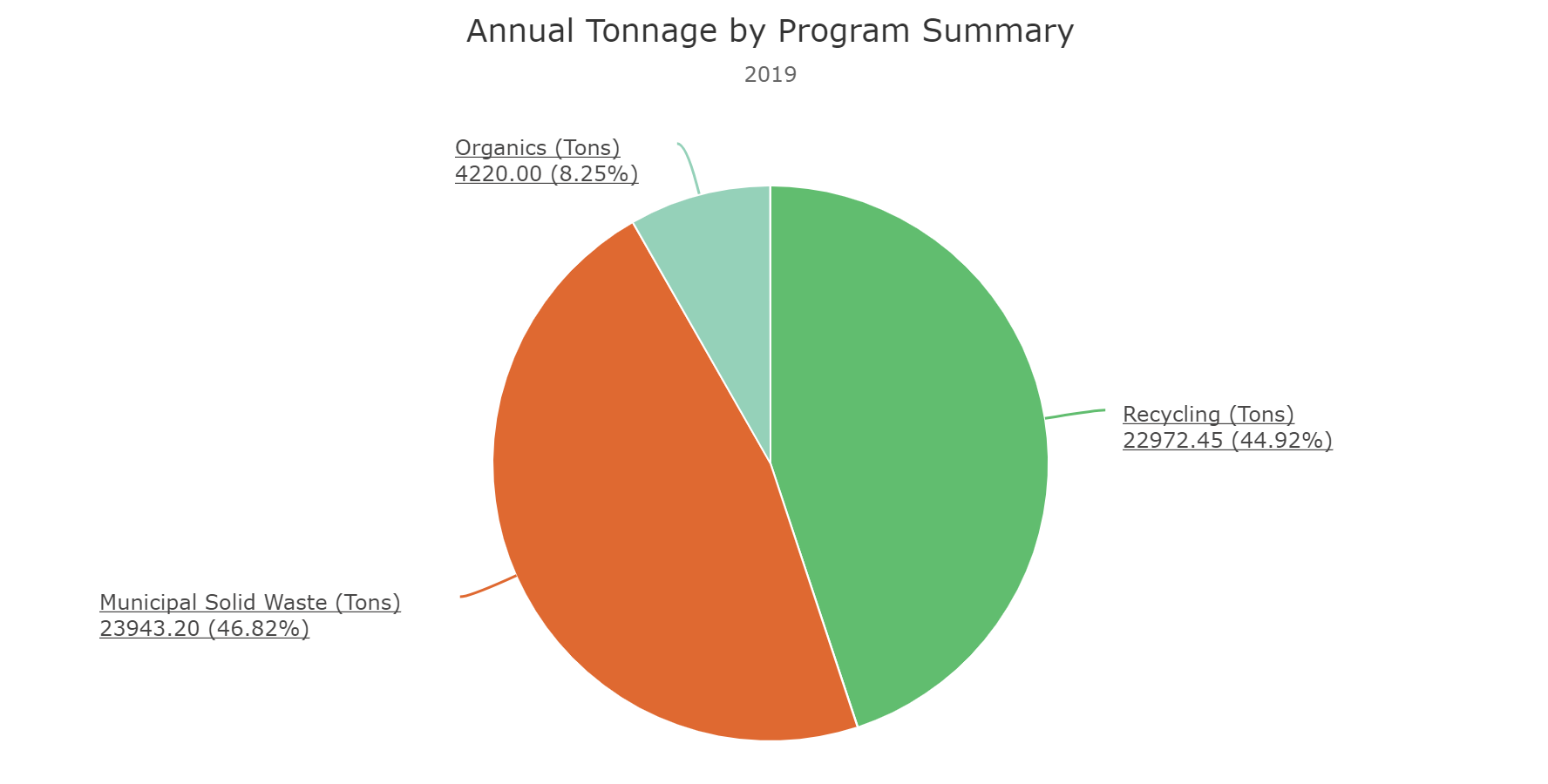 Environmental Benefits
Based on the EPA's WARM model, this report converts reductions in metric tons of carbon dioxide equivalent (MTCO2E) into everyday terms such as gallons of gas conserved.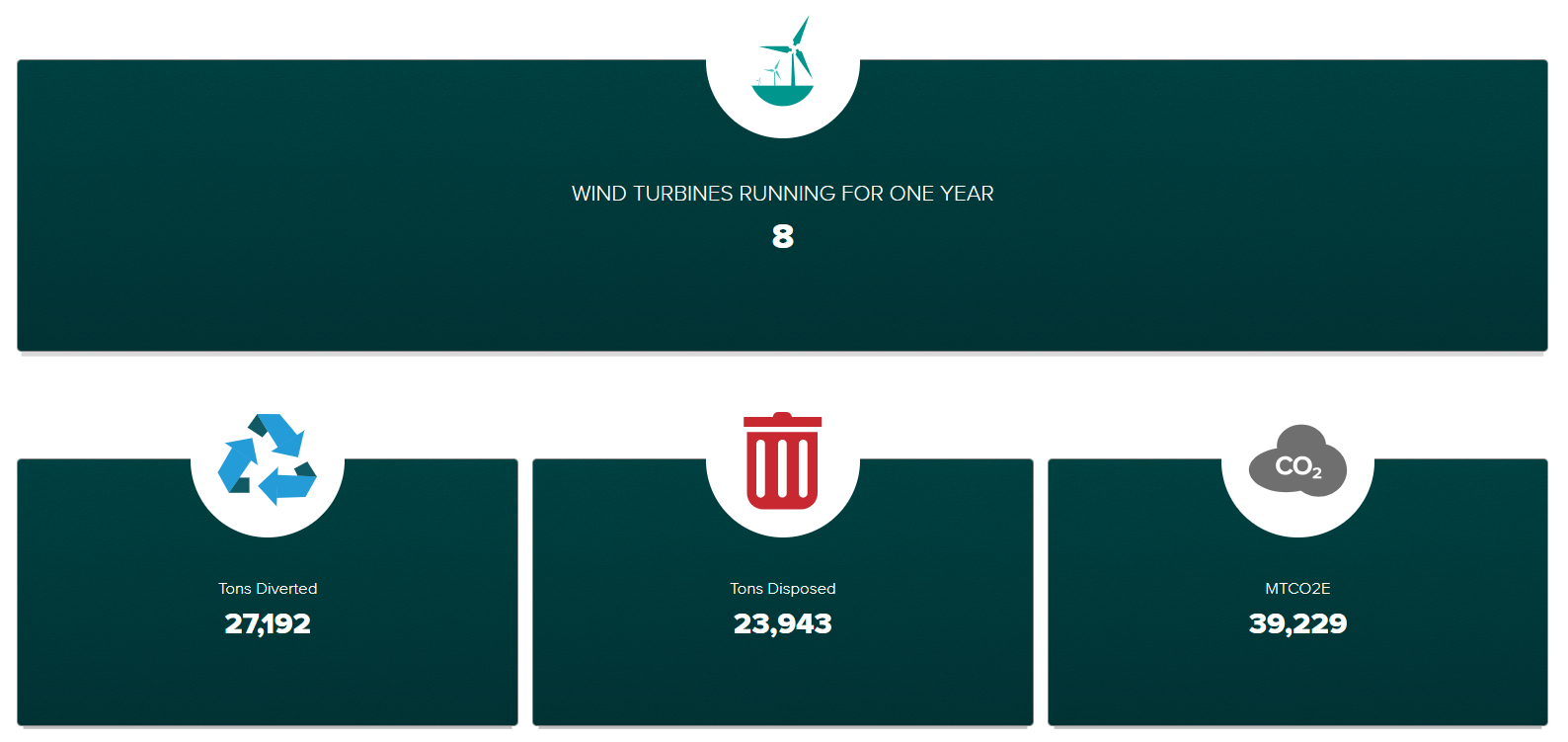 Annual Diversion Rate
Calculate the diversion rate for all municipal programs or by individual programs operating in your jurisdiction. Dig further into the data by analyzing the minimum, maximum, median, and average diversion rates, tons diverted, and tons disposed.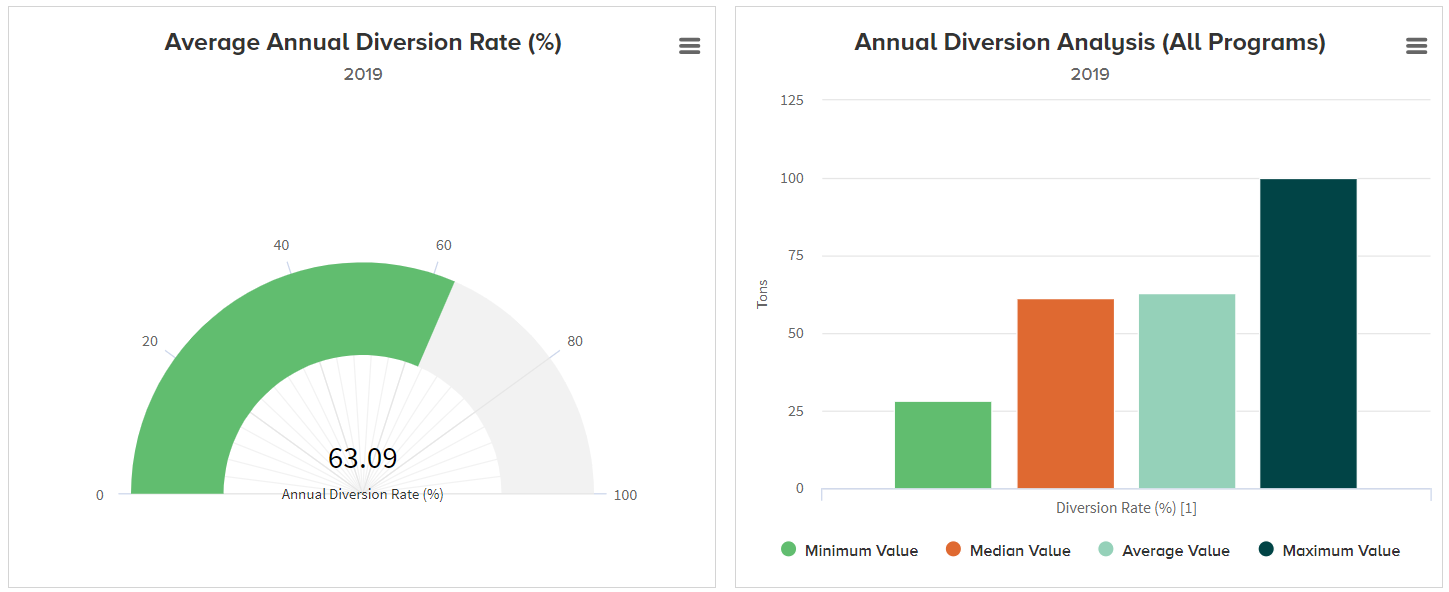 Total Lbs Per Household By Residential Curbside Programs
Normalize your analysis by measuring the pounds per household disposed, recycled, and composted in your jurisdiction.

Average Lbs Per Household Compared To U.S. National Average
Compare your jurisdiction's per household recycling performance to the U.S. national average.

Per Capita Annual Tonnage
Analyze the pounds of waste, recycling, and organics generated per resident in your jurisdiction.

Recommendations Summary
Municipalities participating in the MMP can generate a report to view a set of program recommendations tailored specifically to their community.
The Recommendations Summary summarizes the number of times each program recommendation has been presented to municipalities in your jurisdiction so you can help them address common challenges.

Drop-Off Sites by Materials Accepted
Gain insights into the mix of material types accepted by the drop-off sites operated by the municipalities in your jurisdiction.

Staffed vs. Non-Staffed Drop-off Sites
Generate this report to calculate the total number of staffed and non-staffed drop-off sites in your jurisdiction.

Performance Summary
See your jurisdiction's municipal program performance metrics summarized in one report.